Being in EMS comes with many rewards and some unforeseen events. While serving food for an ambulance fundraiser, someone approached, Tina Cook, an Emergency Medical Technician (EMT) with the Wabasha Ambulance Service, "I remember you, you saved my life." This was a positive reminder of a call to serve that she has embraced for now ten years.
For Bryton Miller, Emergency Medical Responder (EMR), since 2017, this is also a common occurrence. While out grocery shopping, frequently people will approach him and say, "I want to thank you- you were there for my mother." For him, there have been so many calls like this, that the faces start to blur, but the commitment to help and serve his community remains as strong as ever, as he takes anywhere from 36-108 hours in call time per month as a volunteer.
For others, the service is about a family tradition. Sadie Wallerich, who grew up in Wabasha, would watch her dad go out on calls as a volunteer fire fighter with the Wabasha Fire Department and her mom Linda Wallerich, as a volunteer EMT. Sadie joined the Wabasha Ambulance Service at age 19.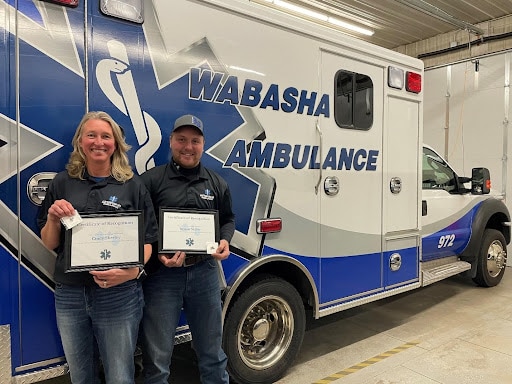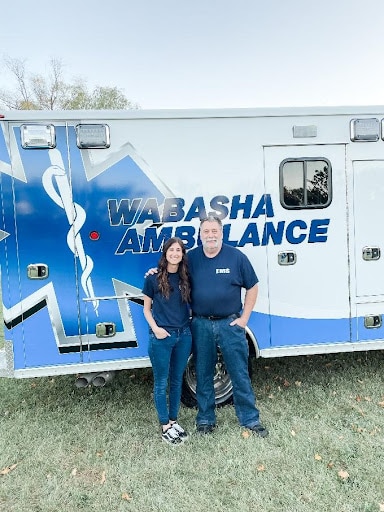 "Now I love taking the calls with my dad. It's really special to work alongside each other," said Sadie.
To successfully operate a rural ambulance service in Wabasha, serving Wabasha and Gundersen St. Elizabeth's Hospital and Clinics, the towns of Reads Landing, Kellogg, and part of Minneiska along with the townships of Greenfield, Pepin, and Glasgow, it takes commitment from 13 active volunteers (paid on-call staff) and 3 paid full-time EMTs. Together, this small group of individuals, average 550 calls per year, complete hundreds of hours training, and cover over 17,500 hours of call time.
Unfortunately, across the country, rural EMS is in crisis, with news of EMS services shutting down as rural populations do not have the population density to make a fully paid 24-7 staffing model financially feasible. So services rely on volunteers. But the nature of work has changed; employers are less willing to allow their employees time away from work to respond to service calls. There are also more regulations and training requirements to operate a service and an aging demographic population means less volunteers are available to serve.
In Wabasha, to make the model work, the City of Wabasha relies on both city property tax revenues to pay for the Ambulance Service and the personal sacrifices of its paid-on call volunteers and staff.
"The emotions and stress of being an EMT starts to take a toll on a person. People don't always see that. We take time away from our family, just to be here, ready to serve when the call comes in," said Tina Cook.
For Bryton those range of emotions can be from the beautifully unexpected, to calls so devastating they are hard to shake from your mind.
Bryton's toughest calls are those involving children and youth. "Those are hard calls and ones that you don't forget," said Bryton.
Bryton also spoke about his most rewarding call- having a baby born in the ambulance truck, parked alongside the road. Long-time veteran ambulance service member, Cindy Sheeley was with him.
Cindy recalled the experience, "Even though I have been doing this for 29 years, and train for it, you are never ready for it. I was so grateful that we had a doctor, nurse, and nurse anesthetist with us in the ambulance."
She went on to say, "It was a very cool and rewarding experience."
May 16- May 20 is National EMS Week. In honor of National EMS week, please thank your neighbor who has answered the call to serve as a first responder or EMT. Please consider answering the call yourself to becoming a volunteer with your local EMS service.