Welcome to Wabasha, one of the oldest communities in Minnesota.
Here in Wabasha, we believe that our quality of life is something to "shout about". Our historic river town is cradled between the Mississippi River and the majestic bluffs of scenic southeastern Minnesota. Adjacent to the Upper Mississippi River national Wildlife Refuge, Wabasha provides a panoramic view of nature at its best and an astonishing array of birds and wildlife. Thousands of tundra swans and Canada geese can be seen during migrations and the majestic bald eagle visits the area in multitude each season. While small in population, Wabasha offers big city amenities.
18 hole scenic golf course
Coffee Mill downhill ski and snowboard resort
Outdoor municipal swimming pool
National Eagle Center & observation deck
Two marinas on the Mississippi River
Three Fitness Centers
St. Elizabeth's Hospital
The seasonal changes only bring more options for residents and visitors of Wabasha. Boating, swimming, fishing and golf, in the summer, ice fishing, bird watching, downhill skiing, in the winter, and leaf peeping, hiking the bluffs, and bicycling in the spring and fall are just some of our favorite leisure activities here.
We celebrate the seasons and welcome old friends and new to join us in our community pastimes. Respect for the environment and community pride are a part of everyday life here. Residents show their commitment to their neighbors and communities through active participation in their local schools, centers of worship and civic groups.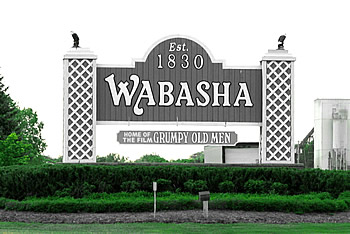 Wabasha is one of the oldest cities on the entire upper Mississippi River and has been occupied continuously since 1826. U.S. Government records and "The 2nd Treaty of Prairie du Chien" (1830) conclusively establishes Wabasha to be the oldest city in Minnesota, established 1830.
Grumpy Old Men Festival in February
River Boat Days in July
Wabasha County Fair in July
Summer concerts under the bridge
Prime Eagle viewing November – April
Soar with the Eagles Weekend in March
A mix of small town charm and 21st century opportunity, living in this picturesque environment is made trouble-free. Modern municipal services that include low-cost municipally-owned water and wastewater utilities, local police and fire services, quality health care, and an excellent local school system are all here. Not just a great place to live, the Wabasha area provides an excellent business environment as well. Imagine taking that most important client on a river cruise, golf outing or dining in a first class restaurant with a spectacular menu. For businesses in Wabasha, that opportunity is just down the street. The area's real estate market continues to grow. Existing housing offers diversity ranging from historic riverside homes and traditional country farmhouses to modern condominiums and affordable new workforce housing.
Whether you're a new family looking for a place to set down roots, or an established business seeking to expand, come discover a promising future in the Wabasha area.